Laura Maciel in Sika Viagbo's lilikpó workshop - 2021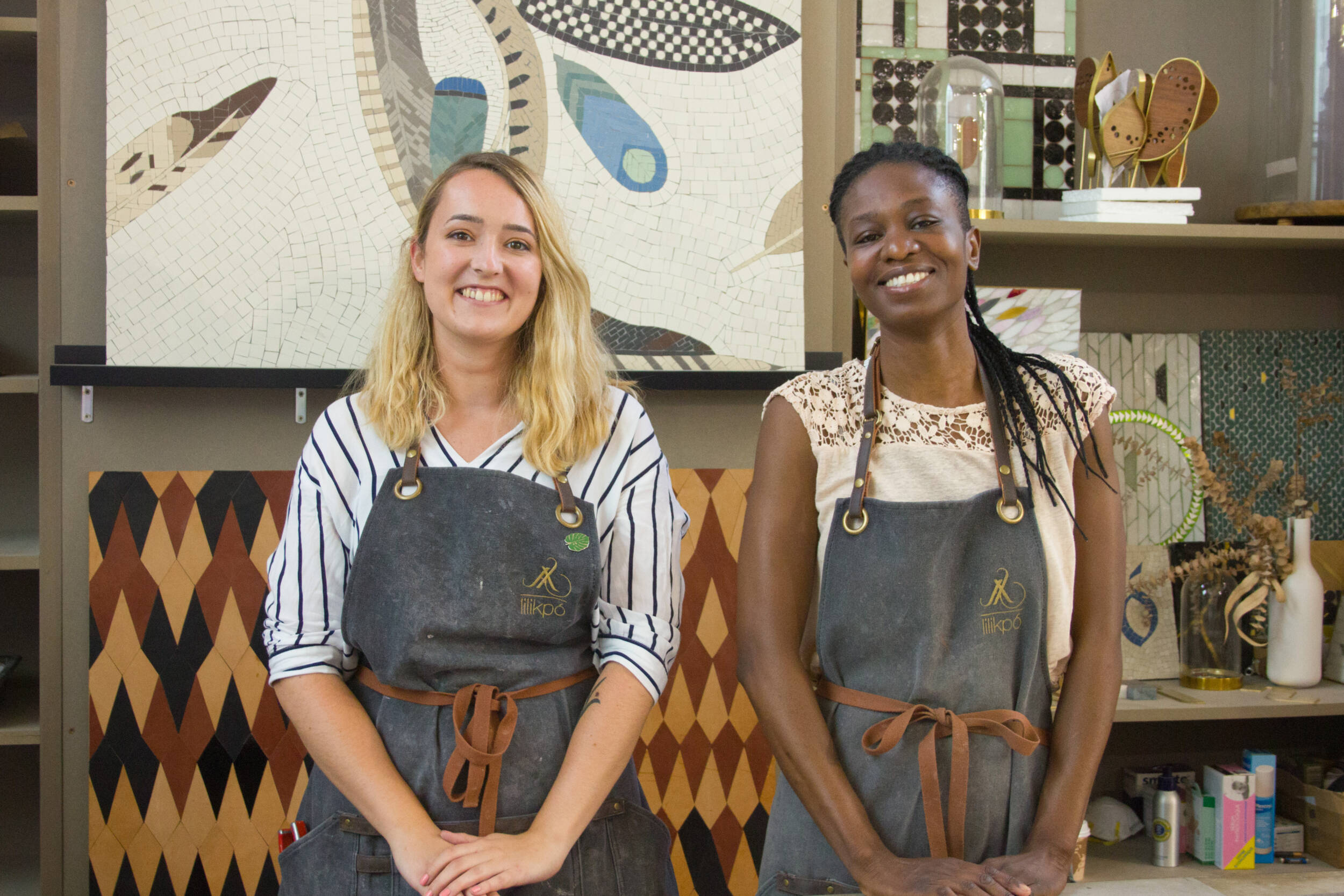 "I want Laura to be able to do everything, so that she becomes fully aware of the different aspects of this job."
Sika Viagbo, mosaicist, welcomes us to her workshop, lilikpó , located under one of the vaults of the Viaduc des Arts, on Avenue Daumesnil. She is accompanied by Laura Maciel, winner of the 2020 Savoir-faire en transmission awards. The space is very bright, Sika and Laura are busy working on a large mosaic commissioned by Cartier.
While working, Laura explains that she previously worked as an interior designer. After studying applied arts, she missed working with her hands. So she decided to retrain to become a mosaicist, and knocked on the door of Sika Viagbo's workshop. After several meetings and a few trial periods, Sika suggested that she apply for the Prix Savoir-faire en transmission, which she herself knew from her residency at the Ateliers de Paris.
"The architect's job also takes into account the space, and you need to understand a plan, just like the mosaicist's job. I already had some knowledge before I came to the workshop, so this made it easier for me to learn.

Laura Maciel, winner 2020
Laura is very smiley and seems to be delighted with her new experience. Sika explains that it gives her a lot of autonomy. The winner receives the client's order and makes creative suggestions to Sika, which they validate together.
"I want Laura to be able to do everything, so that she is fully aware of the different aspects of this job. She's good, she's thorough, she's doing really well."

Sika Viagbo
Laura and Sika present their creations. The workshop's activity is flourishing. At the same time, they are working on a large project, in the Art Nouveau style, to decorate the façade of a Parisian bistro. They worked together on the illustration, and Laura then took care of the modifications requested by the client. The mosaic will be installed in a few days.
"What I like is the multidisciplinary nature of my work. I will make plans and illustrations on paper and on the computer, I will also participate in the creation of the mosaic and take care of the machines. I really like this diversity, not doing the same thing every day. I see all the steps one by one, until the final installation, it's very interesting.

Laura Maciel
Sika confirms that the Know-How Transfer Award is interesting in terms of learning, for the winner, and also for the company. Laura brought her own skills to the workshop.
"Laura has taken over the communication of the workshop. She is developing our presence on social networks, especially Instagram (@atelier_lilikpo). She pushes us to communicate more. It's something I was doing less of before."

Sika Viagbo
Sika looks forward to continuing to work with Laura after the course in January 2022.
"I immediately saw that Laura could be a great help. I don't usually like to delegate the creative part. I trust Laura, because I know she can do it.

Sika Viagbo
In pictures