Timothy Chalazonitis at Père Lachaise - 2021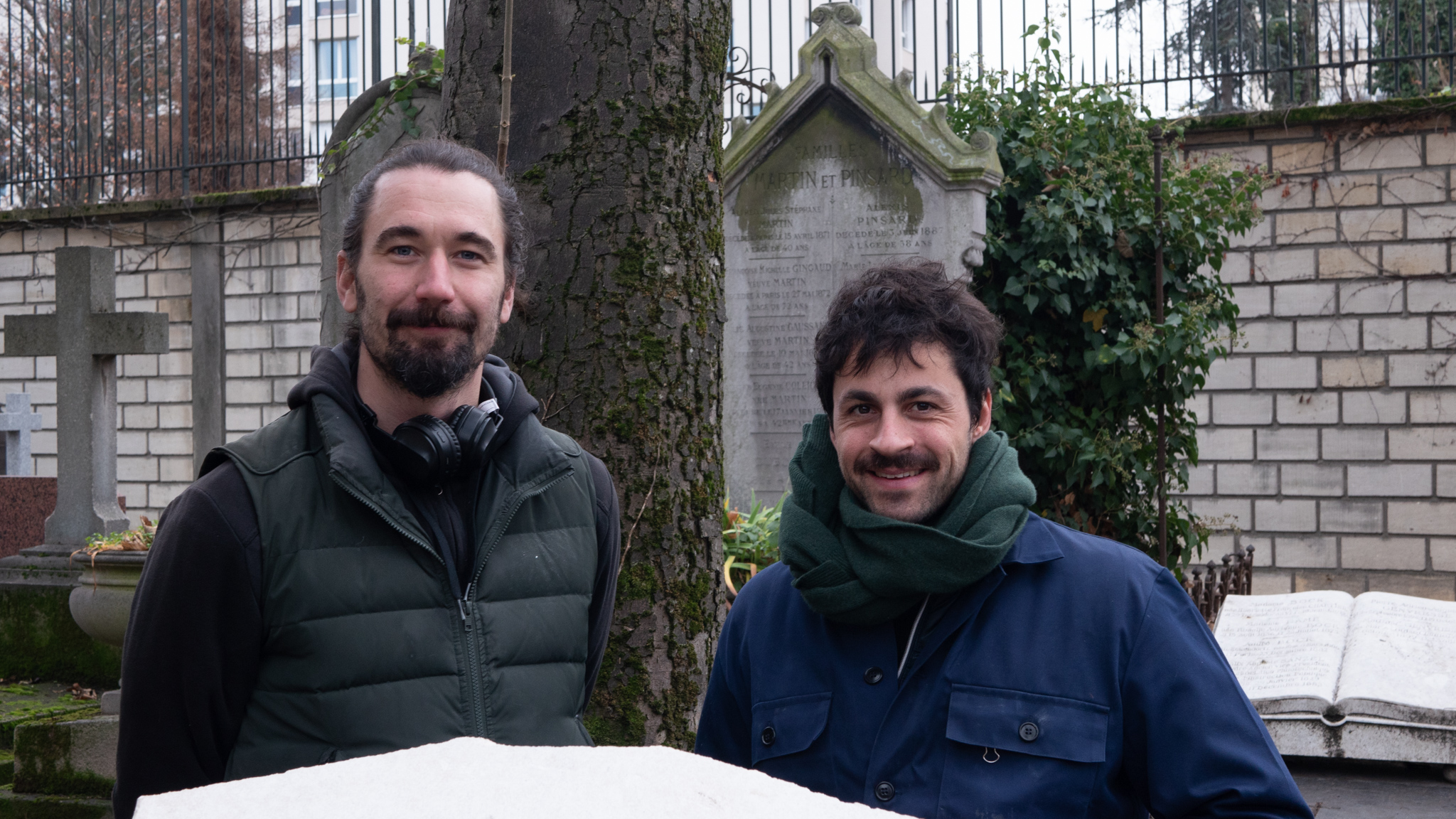 "I want to work with stone in all its forms.
Timothée Chalazonitis, winner of the 2021 Savoir-faire en transmission awards, did his internship with Luc Talarn and Hugues Moncelet, in stone engraving.
After studying Graphic Design at the Arts Décoratifs and then at the Beaux Arts de Paris, Timothée turned to engraving. Hugues liked this unusual career path for this profession. 
"He doesn't come from home and that's what's interesting. He comes with other ideas, other sources of inspiration.

Hugues Moncelet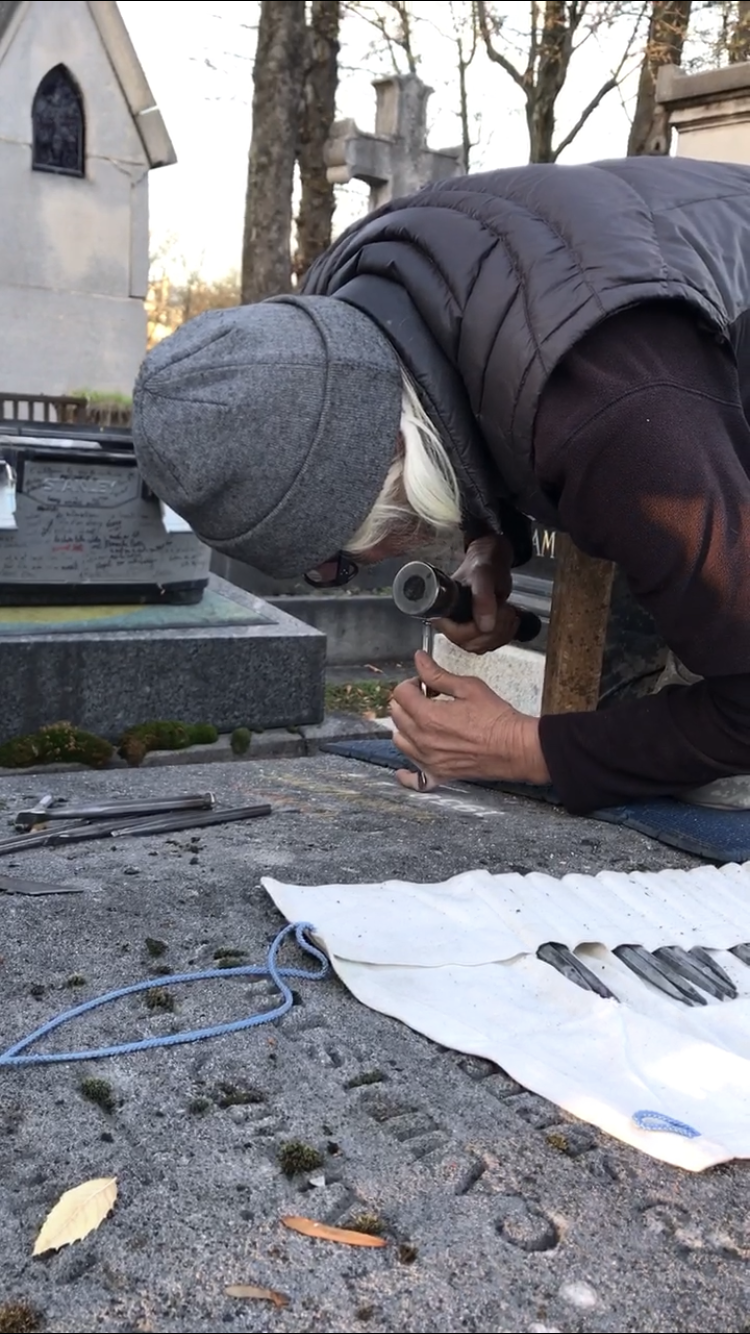 Where does he work? Père Lachaise, where he does engravings on graves commissioned by the families of the deceased.
"We have work every day but we lack good engravers" - Hugues Moncelet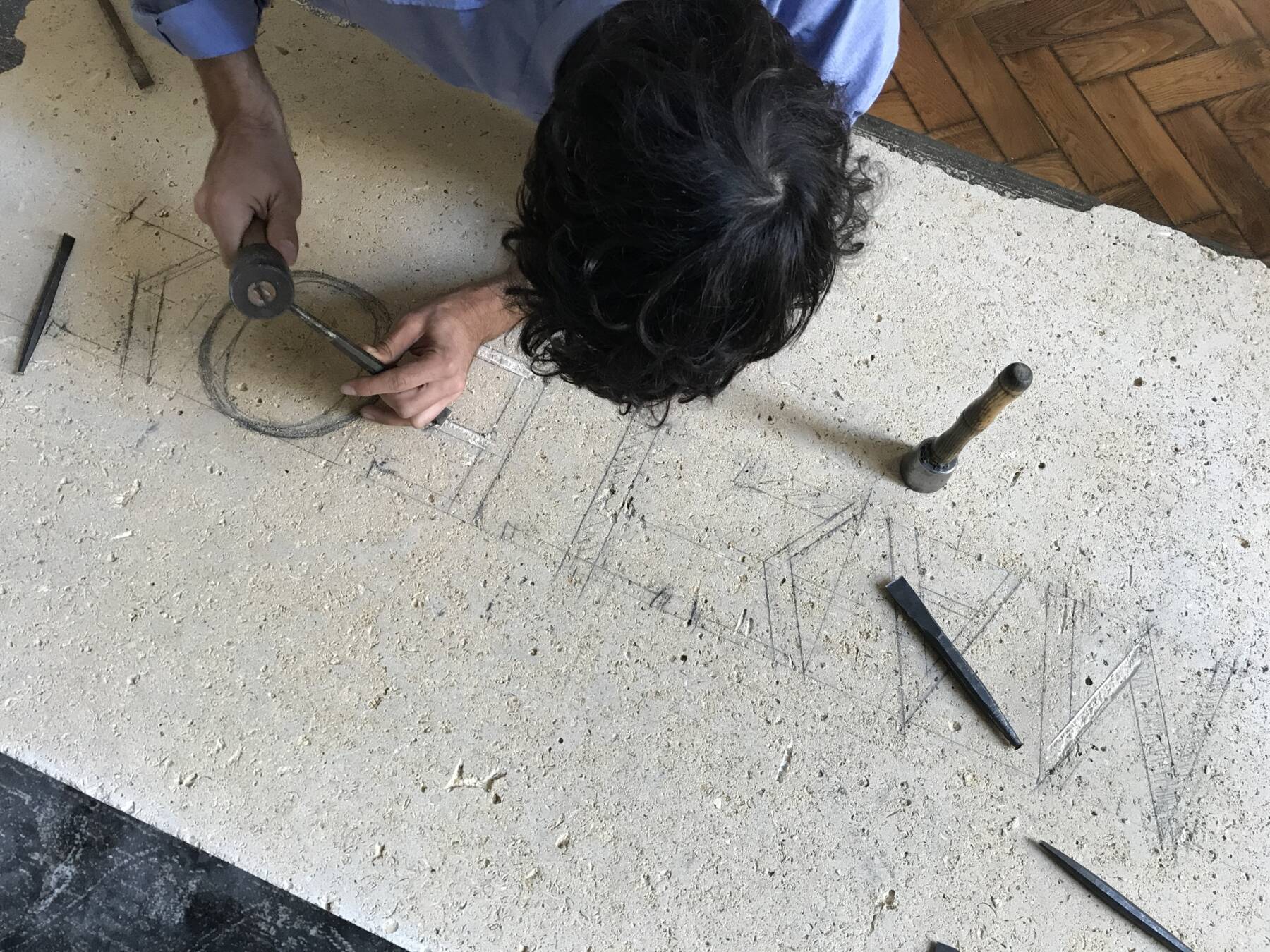 A long conversation on the evolution of the profession will have punctuated this visit with the two craftsmen: the new tools which are gradually replacing, sadly, the work of the hand, the training courses which are becoming increasingly rare...
"The CAP (vocational training certificate) for stone carvers has been withdrawn, as has the additional qualification for stone engravers. It's quite complicated to train today and we've lost too many young people along the way.

Hugues Moncelet
"As you go along, you come to recognise gestures, signatures, the different materials used, the strength that is put into the engraving. And you realise that there are fewer and fewer who take the time to engrave with care. - Timothée Chalazonitis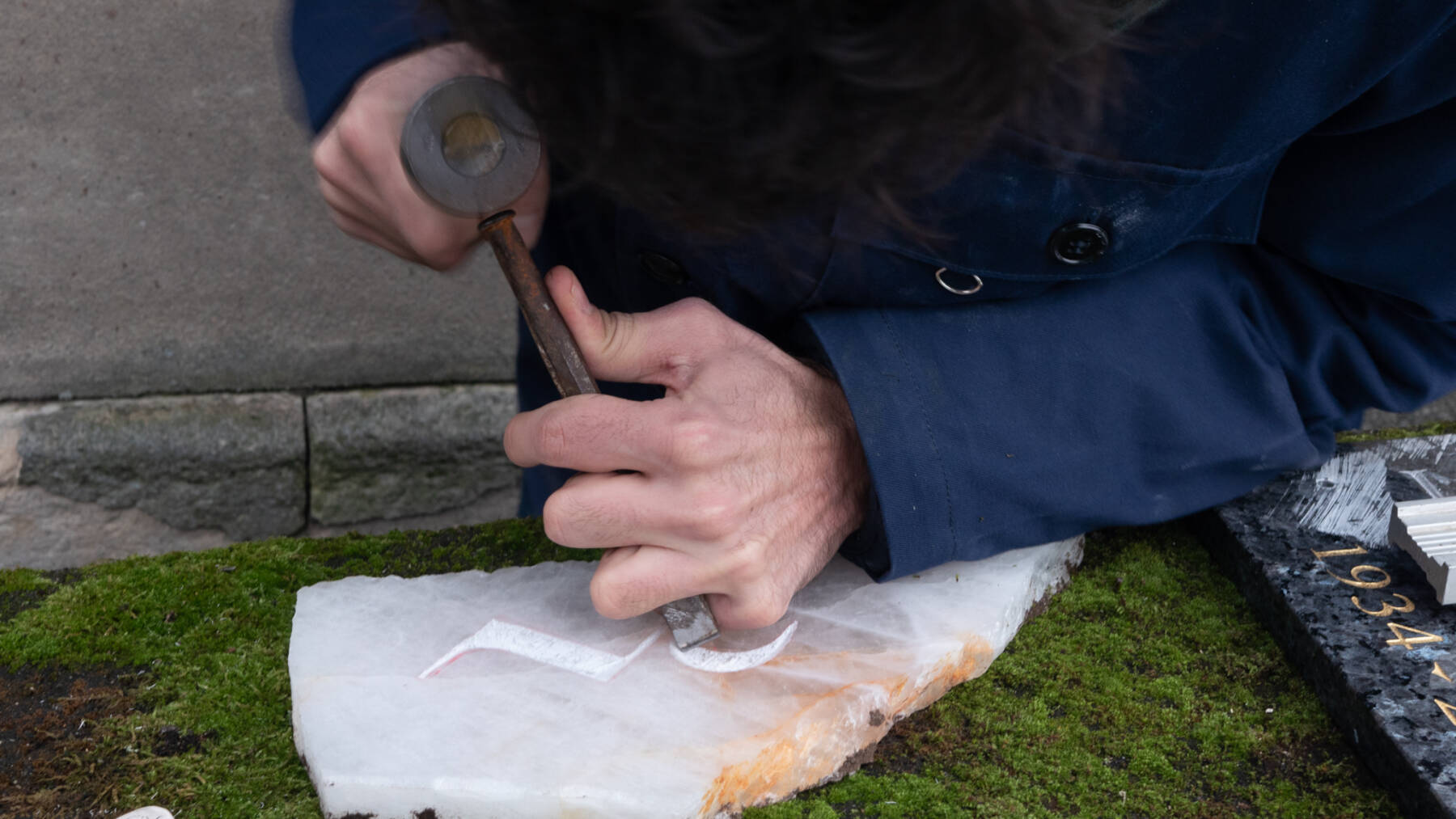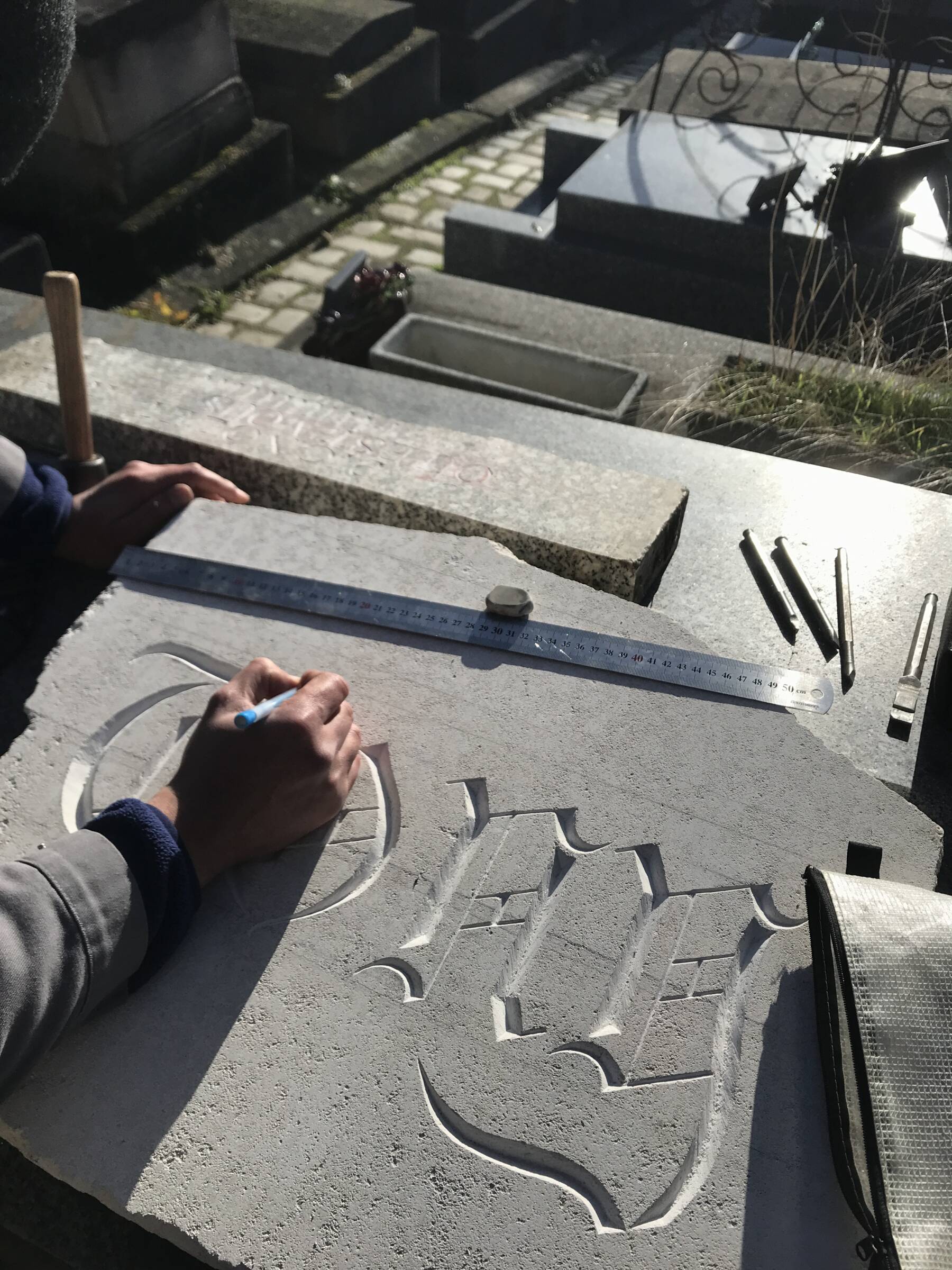 Timothée goes on to share with us what he likes about engraving: the gesture of transmission. A name, an image, a symbol... an object that is left to the test of time.
"What is long, and most important, is the layout. Paying attention to the curve, to the space, to the light". To do this, he ventures to draw in advance on paper... again and again.
"I have trouble with some letters but I persevere!

Timothy Chalazonitis
"Here, we are lucky to have former students who come to judge our work, to challenge it" - Hugues Moncelet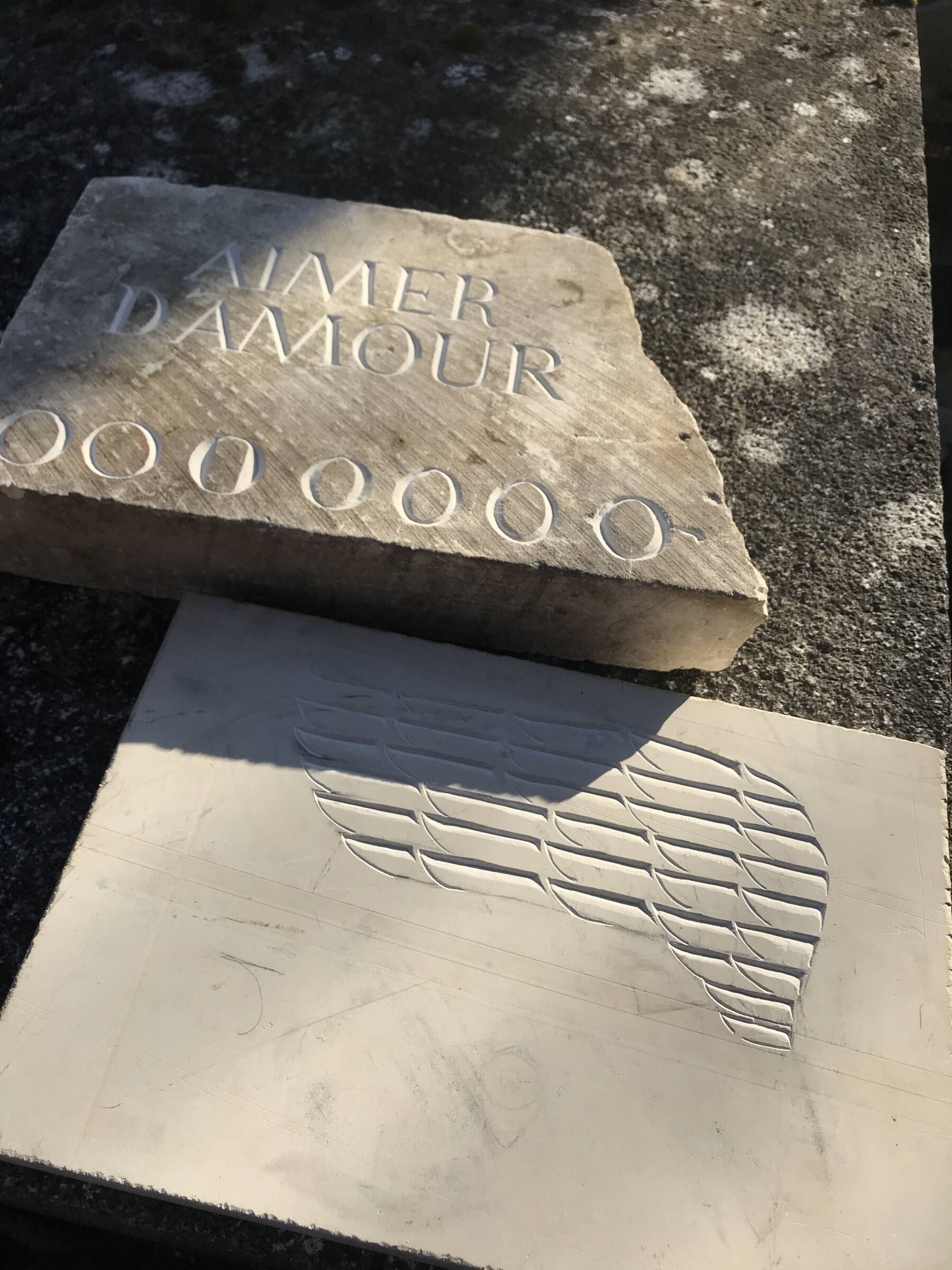 Apart from Père Lachaise, the duo works on the creation of furniture for private actors. "We do sculpture, tables, legs with ornaments, gilding...".
They are also working on a project for the Printemps des cimetières, which will take place at Père Lachaise on 22 May 2022.
Following his internship, Timothée would like to keep his current work schedule, with half time at the cemetery and the rest to respond to other professional opportunities.
In pictures