Ludivine Menu at Atelier Follaco - 2020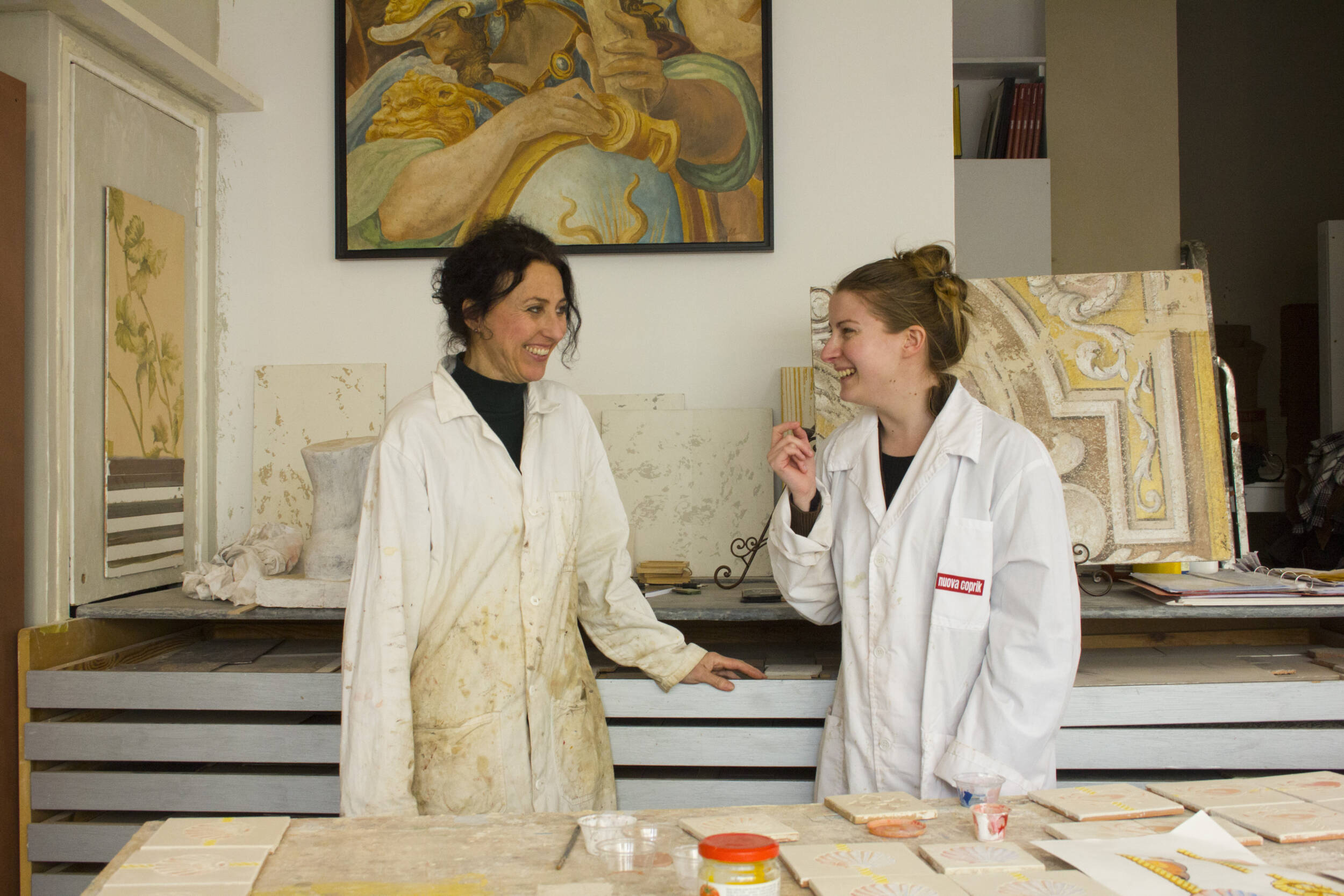 The "Know-How in Transmission" award allows me to bring something concrete to my training".
Atelier Follaco specialises in interior painting, material and colour work and custom tiling. It is located at 142 rue de Charenton.
We are welcomed by Mara Montessoro, the founder of the workshop, and Ludivine Menu, winner of the Prix Savoir-faire en transmission 2020. The workshop, with its pastel, pink and warm colours, is luminous, with two large windows opening on its facades. Mara and Ludivine are hard at work.
"This This order is quite unique! "says Mara.
Numerous tiles are spread out on the bench in the centre of the room. They are engraved with designs evoking a marine atmosphere. The laureate, attentive, follows Mara's gestures and advice. They work side by side and frequently exchange ideas.

From the very beginning, Mara confides that Ludivine's help is very precious to her.
"Ludivine is great because she works on a computer. She made plans in advance and that allowed us to prepare the order more quickly! « 

Mara Montessoro
Mara tells us her story and that of her workshop, which she founded with her husband Franck Follaco. Formerly an Italian teacher, she wanted to change careers and work with her hands. She then specialised in handmade tiles. She and her husband, a decorative painter, founded the Follaco workshop in 2004, in Saint-Cloud.
Once started, she did a lot of orders for shops. In March 2019, she moved into her current workshop. Having a shop window open to the street has allowed Mara to become known as an independent craftsman.
"I think it's important to preserve and pass on this know-how, to continue designing handmade tiles in Paris. »

Mara Montessoro
Mara and Ludivine use a very special technique for their order.
"It's a lime It's a lime tile, it's not enamel. »
The couple conceived this process after a trip to Sicily, the land of terracotta, which seems to inspire Mara so much in her colour work. Lime is applied to terracotta tiles. Once treated, they become waterproof and can even decorate bathrooms. Mara then comes to engrave the lime using the sgraffito technique, typical of Art Nouveau and much appreciated by Gustav Klimt.
"Sgraffito is a technique that fascinates me. You can play with shadows and light, it's very interesting. We try to make it modern through our work. »

Mara Montessoro
Since Ludivine arrived at the workshop, orders have been pouring in .
"I don't know what I would have done without her. I couldn't have done this order on my own! We've also got some work to do soon. It's good for Ludivine too, it allows me to teach her a lot of things. »

Mara Montessoro
Ludivine nods. Their collaboration started three months ago, in January 2020, and she has already learned a lot. After a Brevet des Métiers d'Art in graphic design, a BTS in space design and a Diplôme des Métiers d'Art in architectural decor, she wanted to gain professional experience. A mosaic teacher, a former winner of the Prix de Perfectionnement, told her about this possibility.
Mara seems delighted by Ludivine's presence. She says, smiling, that they get along very well.
"It's difficult for someone who is used to working alone to imagine working with one person all the time. With Ludivine, it goes really well, I trust her completely. She is very precise, very serious. That's a very rare quality. »

Mara Montessoro
Ludivine explains that this programme allows her to put into practice the techniques she learned during her studies and to confront them with the reality of the professional world.
"The Know-How Transfer Award allows me to bring something concrete to my training, I learn by doing, and I apply the skills I have acquired during my course. I am also learning a lot in terms of customer relations, which is something that was missing from my course. »

Ludivine Menu
Mara finally exclaims: "My question is also how to keep her! I absolutely want us to continue after this year, I will be lost without her! »
They hope to be able to extend the adventure and take full advantage of this meeting which brings together their know-how.
In pictures