Marion Hugerot in Catherine Polnecq's studio - 2021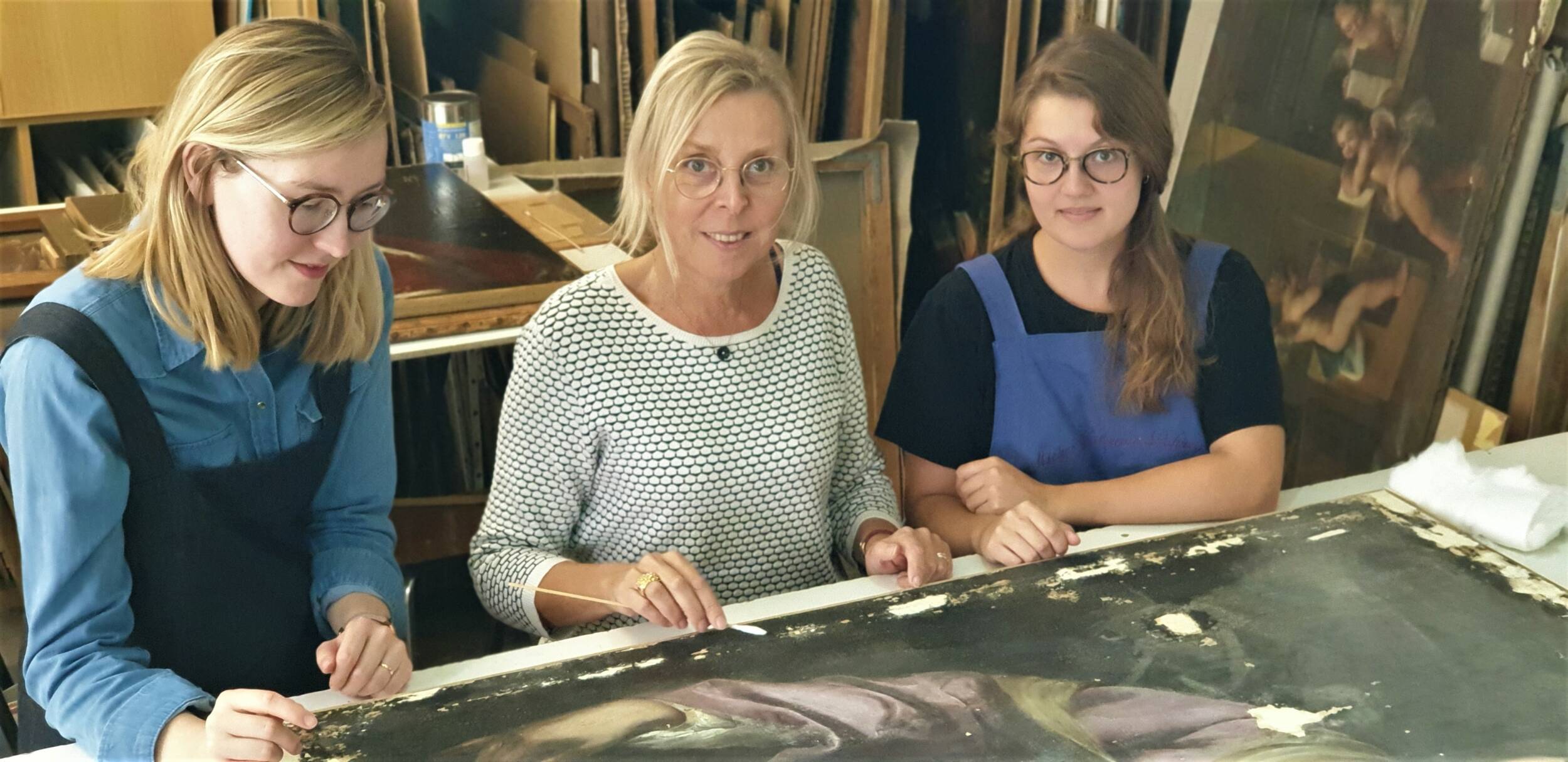 "For me, this scheme is a real recruitment lever!
Catherine Polnecq welcomes us to her painting restoration workshop, located in a picturesque courtyard, a stone's throw from the Place de la Bastille. She is accompanied by Marion Hugerot, winner of the Prix Savoir-faire en transmission 2020, and Émilie Guichet, a 2017 winner, who is now an employee.
The workshop is accredited as a Musées de France and has been in existence since 1995. Their activity is flourishing, as evidenced by the many paintings that are waiting, stored in the workshop. They are currently working on paintings for dealers and individuals. The atmosphere is very warm, the two young restorers seem to be in a good mood, under the benevolent eye of Catherine.
Marion, winner in 2020, first completed a bachelor's degree and a master's degree in heritage restoration at the École de Condé. It was during her various training courses that she met Catherine. One thing leading to another, word of mouth spread and she applied for the Savoir-faire en transmission prize.
"The Know-How Transfer Award is a good complement to my training. Even with regular internships, which last between two and three months, it's hard to say that you have real work experience."

Marion Hugerot
"Thanks to this device, you can really see how a workshop is run. You also learn a lot about the relationship with the customer, the different exchanges that take place with them, it's very interesting."

Émilie Guichet, winner 2017
Catherine Polnecq is familiar with the Know-How Transfer Prize. She also finds it very appropriate for her sector of activity.
"I would never have recruited Emilie without this internship year in 2017. In my opinion, students just out of school don't have enough work experience. These Awards also offer the opportunity to train her future employees."

Catherine Polnecq
Both girls explain that this course is helping them to gain confidence in themselves and their skills. Marion only started her course in April and already sees a lot of progress.
"It takes hard work and perseverance, and you learn a lot by doing. That's why this award is an interesting way to forge a career path.

Marion Hugerot
In the future, Catherine Polnecq and Marion Hugerot want to continue working together.
"For me, this scheme is a real recruitment lever.

Catherine Polnecq