Emilie Guichet at the Catherine Polnecq workshop - 2017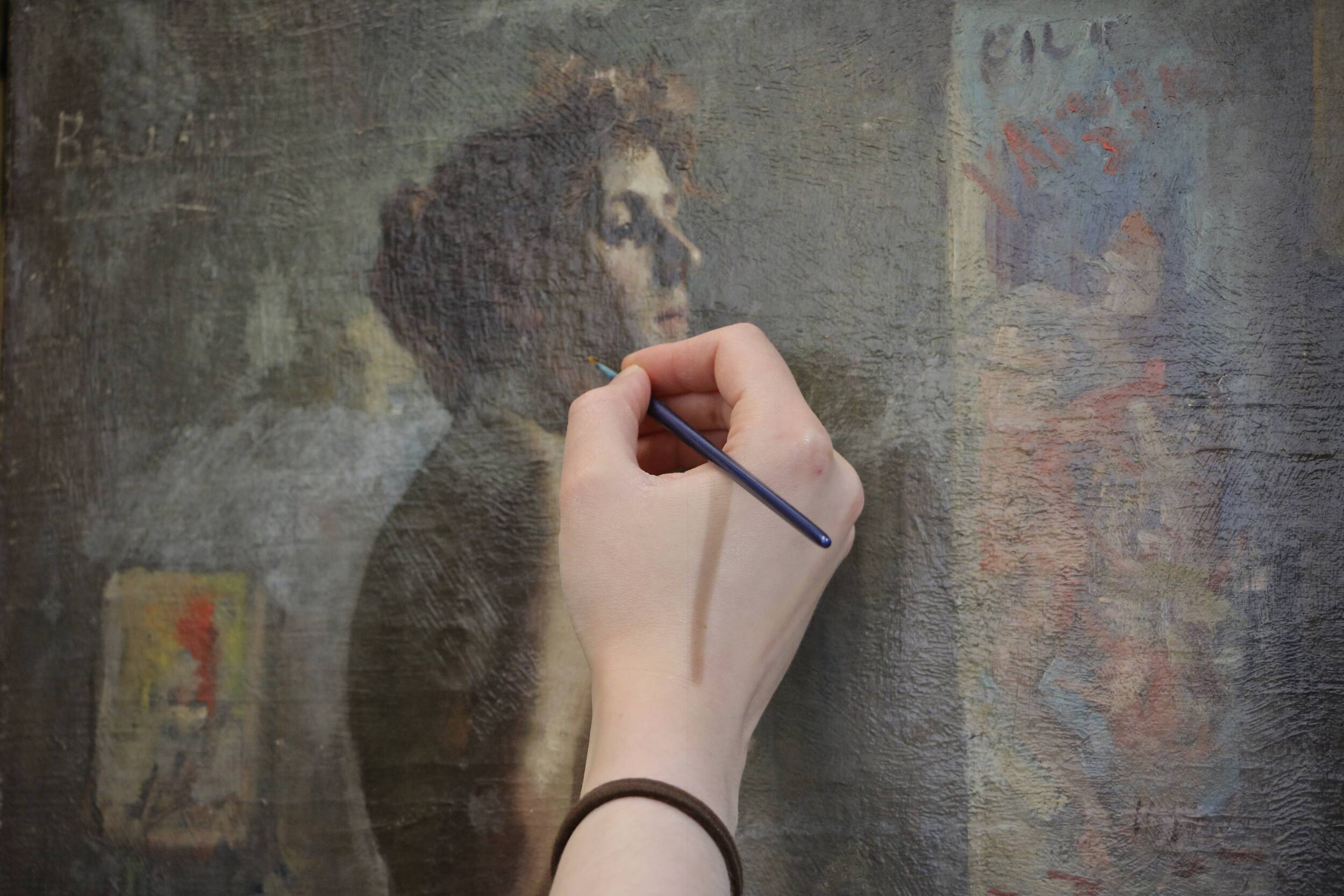 Today, we are going to the heart of Paris, to Bastille, a district known for its history as well as for its artisans' and artists' workshops. We have an appointment at Catherine Polnecq's workshop dedicated to the restoration of oil paintings, which is her only speciality. It is here that we will talk to Emilie Guichet, who won the Davoir-faire transmission prize in 2017 and who was subsequently hired at the Catherine Polnecq workshop.
As we arrive, Catherine introduces us to her workshop, which has been open for over 20 years. She is accredited by the Museums of France and therefore works with monuments, churches, all administrations but also with auctioneers, experts and private collectors.
Most of the restorers who work there today have completed a training course in the workshop. You immediately feel a friendly, almost family atmosphere.
In the workshop, you might think you were in the backstage area of a museum: paintings being restored, frames, easels, palettes and brushes... Over the years and sometimes even centuries, works of art resist time more or less well.
Emilie's mission: to take care of these paintings to give them back their life and shine. She explains everything to us...
Tell us a little about yourself, about your background
"I studied for five years at the Ecole de Condé, until I obtained my Master II in heritage restoration, paintings and pictures. »
How did you hear about the Know-How to Transmit Award?
"I heard about it through a former winner, and it made me want to try my luck. »
Why did you apply for the Catherine Polnecq workshop?
"I had already done an internship here and I wanted to continue learning, to become more professional. I had really enjoyed my experience but I felt that I still lacked mastery."
Face to face with the course leader...
What do you gain from working with your trainee on a daily basis?
"Working with young people gives me a certain freshness and lightness. Emilie reassures me because I know she won't make mistakes. If she has any doubts, she prefers to come and see me. I trust her, especially for the quality of her work and the mastery of her palette. »
How would you describe the transmission of know-how?
"Studies are very good for the theoretical aspect, but you have to add practice and many hours of apprenticeship to train as a craftsman. I think it takes about 10 years to be totally comfortable with the restoration of works of art. It's a long job, which requires the intelligence of the hand. »
How did you envisage Emilie's employment after her internship year?
"This year of experience was essential to ensure a mastery of the technique and a better quality of work. And it was after this year of experience that I decided to keep Emilie in the workshop. She still needs to acquire technique in the restaurant, but I believe in her abilities as a true professional. »
In pictures