Jenna Broult at William Amor's workshop - 2021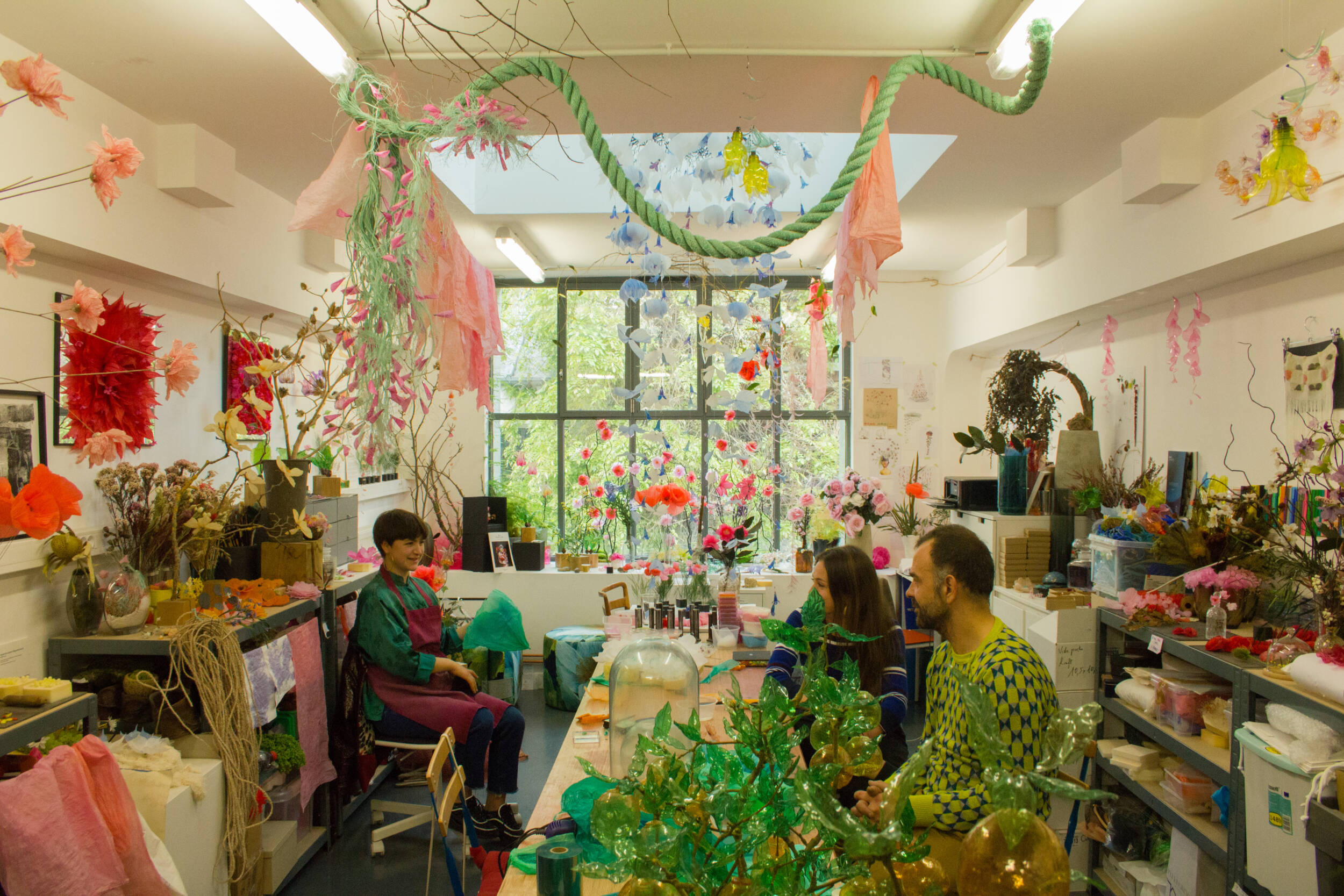 Working with neglected materials means always rethinking your gestures
William Amor is a visual artist, specialising in the valorisation of abandoned materials, which he uses in the creation of floral art. His works can become ornamental elements for fashion or design, or compose artistic decors and installations. He works for major luxury houses and companies such as Guerlain and Kenzo. A former resident of the Ateliers de Paris, in 2019 he will be awarded the Emerging Talent Prize of the Grands Prix de la Création of the City of Paris, in the category of art professions.
William welcomes us to the Villa du Lavoir with Jenna Broult, winner of the Prix Savoir-faire en transmission 2021. Their workshop is spectacular. Countless floral creations adorn every space, giving the impression of a real indoor garden. 
During the visit, Jenna recalls her career path. She first completed a DMA in embroidery at the Duperré school, and it was during her DSAA Métiers d'Art that she felt the desire to combine embroidery with other techniques. She experimented with ceramics, wood, metal and stained glass. "I have quite a versatile profile" she concludes.
She discovered the Prix Savoir-faire by word of mouth. Last year, she discussed this possibility with William during his internship in the workshop.
"It was a logical continuation after my four-month internship in William's workshop. And it was reassuring, I already knew the environment and the projects I was going to work on. »

Jenna Broult
William finds the Savoir-faire en transmission awards particularly well suited to his field of activity. As his know-how is evolving and very specific, and as he does not have a reference in art schools, he needs to train the people he wants to work with himself in order to develop. For him, these awards are a real opportunity, as the cost of training is currently too high for his company.
"My mission is to be able to pass on my know-how and build my teams according to my projects. »

William Amor
In particular, William wants to offer Jenna the opportunity to continue working with him on a freelance basis after the course. " Jenna is a real resource," he says. 
Jenna seems very satisfied with her experience in the workshop. Working with neglected materials means that you have to constantly rethink your movements. In addition, each project includes a research phase to find the materials and explore their properties, which requires creativity and organisation.
"It's difficult to evaluate my progress, because each project is unique, our gestures evolve all the time, but I know that I learn a lot. »

Jenna Broult
Jenna confides that she would like to have her own textile workshop in the future, and recognises that her experience with William opens up a new field of possibilities, especially in the search for new materials.
In pictures