Marius Tessier in Bertrand Dupré's studio - 2021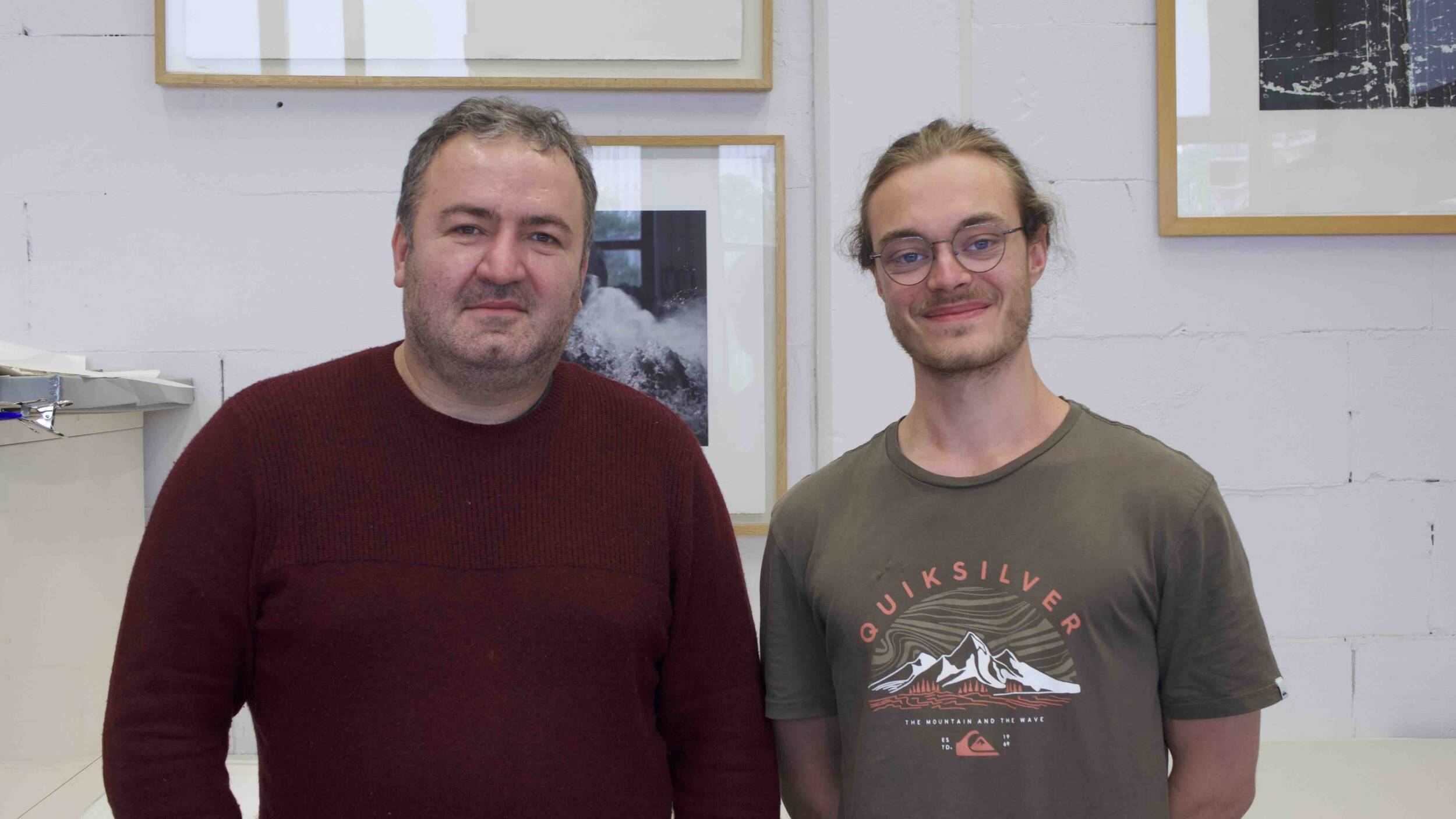 "There was no other way to train for so long in this trade.
Marius Tessier, winner of the 2021 Savoir-faire en transmission prize with the craftsman Bertrand Dupré, will start his intaglio printing training in January 2021 at the Chalcography workshop, attached to the Réunion des musées nationaux - Grand Palais.
Created in 1797 from old collections built up under the Ancien Régime, the studio has been receiving commissions from contemporary artists (JR, Annette Messager and Rosanna Lefeuvre, among others) for several years.
After training in engraving at the Estienne school and a first internship at the René Tazé workshop, Marius applied for the Savoir-faire en transmission prize and the Rmn, at a time when Bertrand was wondering about the interest of the younger generations in his profession:
"Is there a point to this? Is this a trade that will endure? It's scary to see large workshops close down.

Bertrand Dupré
Marius' presence is reassuring: the interest, desire and energy were felt at our meeting, and this continued throughout our exchanges.
We met Marius and Bertrand last October. What struck us was their desire to share with us their common passion for a profession, above and beyond questions about its future.
10 months had passed since the beginning of the course and already Marius felt proud of his evolution. The transmission was done gently, taking the time to practice all the techniques, on old and contemporary plates, with less stress, the difficulty increasing as we went along.
"I discovered so many things: you can work with the palm, with the finger, look for contrasts by bringing the ink to the surface, treat an image differently depending on the areas.

Marius Tessier
The learning acquired at the school was able to be concretised thanks to this training course, confronting the reality, the constraints and specificities related to the engraver's job.
"We are still learning, after 10 months or 30 years.

Bertrand Dupré
The course was an opportunity for Marius - to take the time to practice, to nurture his technique, to learn this rare craft - and for the workshop - a long-term and financially supported workforce.
We learn at the end of our interview that a new position in the workshop is being created, with Marius taking priority.
Our report concluded with the words of Sophie Prieto, head of the workshop:
"This award serves as a support accelerator during those difficult moments at the beginning when you are just starting out.

Sophie Prieto